Porcelain tiles are ceramic tiles that have a very low absorbency. These tiles are extremely tough and are difficult to drill.
Porcelain tiles are normally easy to fit, although if they are textured like this tile some DIY tile cutters struggle to cut them.
Porcelain tile Adhesive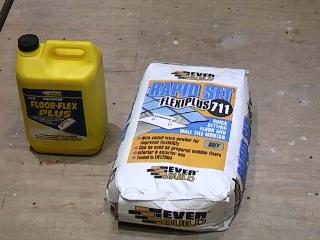 Choose an adhesive that is suitable for your particular application. If you are tiling onto a wooden floor you will need a flexible floor adhesive. If you are tiling a shower cubicle you will need waterproof adhesive. I recommend non slip adhesive as it is easier to use.
Cutting Porcelain tiles
Porcelain tiles are best cut with a standard Tile cutter (as long as they are not textured). DIY flatbed tile cutters will not cut textured porcelain tiles but professional versions such as Rubi will. A diamond wheel cutting machine will easily cut porcelain tiles and can cut tiles that a flatbed cutter cannot Wet tile saw
Drilling Porcelain Tiles
Porcelain tiles can be drilled with a standard tile drill but will often burn out as they are only really for use on ceramic tiles. Special drill bits especially for Porcelain are available but are extremely expensive and are not economical for the DIY user and so Diamond coated hole saws are recommended.
Fixing Porcelain tiles
For fixing Porcelain tiles to a wall please see here Tiling a wall. If you are tiling onto a wooden floor please click here for instructions Tiling a floor
Finishing
Porcelain tiles normally only require Grouting