Damp in buildings
Damp Buildings can be very problematic and can cause severe damage to the fabric of the building and also the occupants health!
Damp in buildings typically has three causes- condensation, penetrating damp or rising damp. It is essential that the correct cause of the problem is identified and eradicated as soon as possible to prevent further damage to the building or it's occupants. On of the most common causes of damp problems in buildings is caused by condensation, this means that the air in the building has an high moisture content. The moisture in the air will settle on any cold surface in the home, this can be anything from a cold wall to the glass in a window. Eradicating condensation completely is almost impossible but it can be controlled to a certain degree which can make a considerable improvement to your home.
Penetrating damp is when water (often rainwater) is entering the property, finding the exact point of entry can be extremely difficult as the water could of run for some considerable distance on the inside of the property before the water damage becomes visible. Penetrating damp can occur through walls where for example the pointing is damaged, around windows where the seal has perished or become detached or through the roof. A favourite place for penetrating damp problems is around chimney stacks, finding the exact point of water ingress can be very time consuming and frustrating.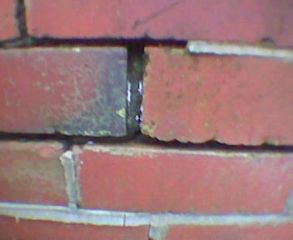 Missing mortar from joints like this can often be a cause of penetrating damp. It's essential that any missing mortar is repaired before the onset of frosty weather or else water can penetrate into the cracks and then freeze, which will then expand and damage more of the mortar/brickwork. To repair damage like this please see repointing
Rising damp can be the most difficult and costly form of damp to diagnose and eradicate. The cost can be expensive as effected plaster on the inside of the property will need knocking off and then replacing once the wall has dried out fully (this can take months). Once correctly diagnosed a solution to the rising damp problem can be sought. In some cases the ground level on the outside of the property is too high and in other cases the cavity may be blocked. Remedying either of the two causes could not be practical and so another alternative may be required such as a chemical DPC or en electro osmosis DPC in all cases it is essential that the exact source of the damp is identified and that the most suitable solution is chosen.