The main earthing cables run from either the Main earthing terminal, which will be close to the consumer unit or the earth bar in the consumer unit itself, some regional electricity companies require the main bond from the service pipes to connect to their earthing point. Earthing wire is easily identifiable as it is green and yellow. Main or supplementary equipotential bonding is there for your safety and should not be ignored! It is advisable to have any work tested by a competent electrician!
Before working on any electrical circuit you must ensure that it is isolated correctly and cannot accidentally be switched back on. Please read the article on safe isolation procedures before doing any electrical work. If you are not 100% certain what you are doing call a qualified electrician. Building regulations are changing all the time and modifying your home electrics could be against new rules and could invalidate your home insurance, if in doubt check first!
This is a diagram of a typical main earthing wire that runs from the earthing bar in the consumer unit or distribution board to the earth on the sealed unit, which has been supplied by the regional electricity company.
This picture shows how the Main earthing wire from the earth bar in the consumer unit would connect to the Earthing point that has been supplied by the Regional electricity company, on the sealed unit. The thickness of the Main Earthing wire is normally no smaller than 16mm2, but some electricity supply conditions may require larger conductors. Please check this with your regional electricity company.The meter tails are normally 25mm2
Main equipotential bonding is not difficult to understand and basically involves running a 10mm2 Earthing wire from either the Main earthing terminal or the Earthing bar in the consumer unit and should be securely clamped to the incoming metal water, gas and Oil service pipes using a suitable Earth clamp. The main bonding must be carried out on the customers side of any meter, Main stopcock or insulating insert and must be connected within 600mm of either the first valve, or the entry point to the premises.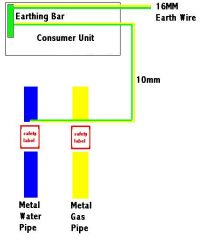 Here you can see that the Metal water and gas supply pipes are both connected to the same 10mm2 Earthing wire, this is perfectly ok as long as the wire is not broken. It must be one continuous length of wire, how to achieve this is covered here Connecting an earth wire. The wire must be securely connected with Earth clamps that comply with BS. 951The safety label must be present and state " SAFETY ELECTRICAL CONNECTION- DO NOT REMOVE". How to install earth clamps can be seen here- Install an earth clamp