New rules for electrical safety in the home-
Read this before starting any electrical work
From 1 January 2005, people carrying out electrical work in homes and gardens in England and Wales will have to follow the new rules in the Building Regulations.
Before starting any electrical work it is essential that you find out exactly what the rules are. Unfortunately the ODPM (office of the deputy prime minister) Seems to change the Rules quite regularly, I cannot therefore re-print any of the material (including PDF downloads) any more as the information could soon be outdated!
Therefore it is in your best interests to go to the Government web site and read the current rules. There are two documents that will interest you-
1. New rules for electrical safety in the home.
2. The approved Part P document.
The office of the deputy prime minister no longer seems to deal with part p anymore and I cannot link directly to the part p document as it is always being moved or changed and is often soon outdated. Please search the government web site for the latest edition of part p, it will be free to download.
Important : New colours for mains electricity cables
Old colours-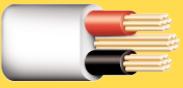 The colours of the live and neutral wires in electrical cables are changing from red and black to brown and blue. This is the same as the wires in flexible leads to portable appliances.
New Colours-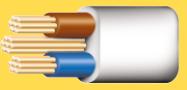 You can continue to use cables in the old colours of red and black until 31 March 2006. After that, all new wiring must be in the new colours.
Note what it says will happen if you don't follow the rules:
* The electrical installation might not be safe.
* You will have no record of the work done.
* You may have difficulty selling your home if you do not have the right electrical safety certificates.
* Your local authority's Building Control Department may insist that you put right faulty work.
If you choose to notify, expect to pay £100 or so. If you don't notify when you should, you pay nothing but run the risk outlined in the ODPM's leaflet.