Damp Proofing creams are now manufactured and sold un several different brands
Damp proofing creams offer a quick and easy way to retrofit a damp proof course in your property if a physical DPC does not already exist. Unfortunately you will have to remove any affected plaster as even when the plaster has dried out and is still firmly fixed to the wall the salts will rise to the surface eventually.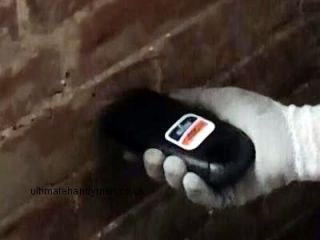 Once rising damp has been diagnosed and it has been proven that the cavity is clean- cavity cleaning You can install a chemical DPC in the form of damp proofing cream. These creams are easy to use and fit in a normal siliconing gun.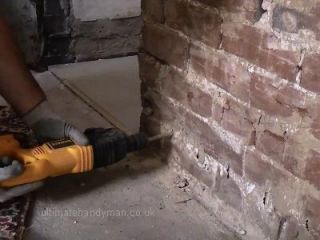 Which ever brand of damp proofing cream you buy you must read their instructions as each brand is slightly different. Holes are to be drilled at the correct height and width apart into the mortar course. Here we are using an SDS drill with hammer action switched off. The depth of the holes will depend on the thickness of the wall and whether it is a single wall or cavity wall.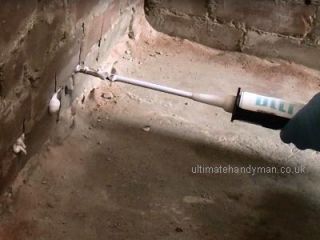 The nozzle supplied is long enough to do treat the outer leaf of an external cavity wall from inside of the property if required. Insert the nozzle to the desired depth then squeeze the handles together whilst slowly withdrawing the gun, this will fill the hole with the damp proofing cream.
After a few days you will see that the cream has started to soak into the mortar/bricks. This will create the chemical damp proof course once all the chemical has been absorbed.
When drilling the holes for the DPC it is best if a percussion drill is used instead of a SDS drill because SDS drills are so powerful that the back of the mortar/brick often bursts out when being drilled, which of course will mean a hole right right through the brick/bed of mortar which in turn will add even more debris to the cavity. If you are drilling into the mortar it is possible to use an SDS drill with the hammer action switched off.