Toilets can easily become blocked. There is often no need to call out a plumber as unblocking a toilet is normally a straight forwards operation.
PREVENTION IS BETTER THAN CURE. HUMAN WASTE AND TOILET TISSUE SHOULD BE THE ONLY THING FLUSHED DOWN THE TOILET. COTTON BUDS, COTTON WOOL, SANITARY TOWELS AND NAPPIES SHOULD NEVER BE FLUSHED DOWN THE TOILET.
YOU MAY BE LUCKY AND GET AWAY WITH IT BUT THE SOIL PIPE COULD BLOCK AT THE COMMUNAL SEWER IN WHICH CASE A PLUMBER WILL PROBABLY BE NEEDED, IF IS PROVED THAT YOU ARE THE OFFENDING PERSON THAT CAUSED THIS BLOCKAGE YOU COULD BE SUED AND WILL NOT BE TOO POPULAR WITH THE NEIGHBOURS!
Chemical drain unblocker's often do not work! I have tried a few over the years on sinks and toilets and none of them have worked as claimed by the manufacturers!
Toilets are connected to the main sewer via a pipe called a soil pipe, this pipe is normally 4 inches wide but there are some instances where a 3 inch pipe has been used. Most toilet blockages are caused at the back of the toilet where the bend is. You can often remove this blockage with a plunger or if you do not have a plunger you can use a mop inside of a carrier bag. The idea is to force the blockage out of the toilet and into the soil pipe where it will pass to the main sewer (hopefully)
Toilets occasionally get blocked, often by too much toilet paper or large deposits. It is advisable to wear gloves for unblocking toilets!
Here you can see the Bend behind the toilet, in 9 out of 10 cases this is where the toilet is blocked
Do Not keep flushing the toilet as this can eventually cause the toilet to overflow!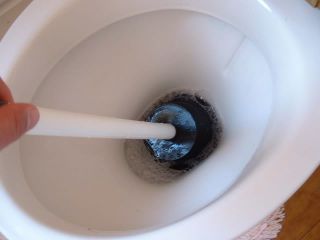 To clear the blockage you need to force water down the trap which will hopefully dislodge the blockage. This can be done with a suitable plunger, by giving it several hard pushes with both hands. Be prepared to be splashed a little, ensure the water in the bowl is pushed at force through the trap and this should clear the blockage!
If you have no plunger you can always use a long handled mop or similar, If that fails you can use a metal coat hanger by unwinding it and using it to break up the obstruction. Ensure that there is no macerator or similar before poking anything down the toilet! Another heavy duty method is to use a drain rod, these are similar to what a chimney sweep would use, attach a 4 inch rubber disk or plunger and ensure there is plenty of water in the bowl to create a good seal and give the drain rod several hard pushes ensuring that the water is forced through the trap behind the toilet. It may take a few attempts but it is far better than paying £75 to a plumber!
If the toilet will still not unblock then run some water down the sink and the bath, if this water does not drain away then the blockage could be further down the soil pipe, in which case you will need a set of drain rods and suitable attachments