Toilet seats often become broken, normally when they are dropped down on the toilet pan rather than placing it down gently. Replacement is very easy but there are several different methods of fastening the toilet seat to the pan. Here are the instructions for the modern type of fitting, more will follow.
Here you can see that the Toilet seat is broken as the lid is missing.
This is a close up of the hinge that holds the toilet seat and lid in place, to remove the seat you firstly have to lift the chrome cover up using a flat screwdriver to expose the retaining screw.
The covers simply pop off to reveal the two screws which fasten the toilet seat to the pan.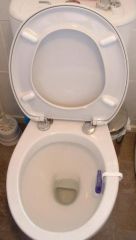 Here is the front view of the toilet with the covers popped up, place the toilet seat down onto the pan and unscrew the two screws from above to remove the seat.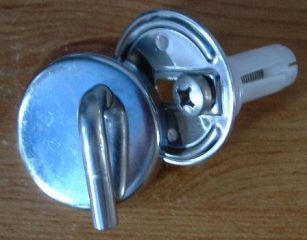 This is the close up picture of the hinge and retaining screw, this is the easiest way to fasten a toilet seat as it can easily be fastened and unfastened from above. Simply unscrew the screw and the whole thing lifts out of the mounting holes.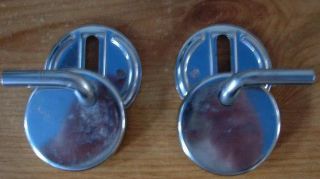 The two hinges must be pushed into the two holes in the seat and lid and must face the way shown above, if you put these on the wrong way around it is almost impossible to get to the screws to tighten them. The chrome covers must also be in place as shown in this picture before fastening to the toilet.
Do not try and fasten the seat with the hinges this way around!