MDPE pipe (medium density polyethylene)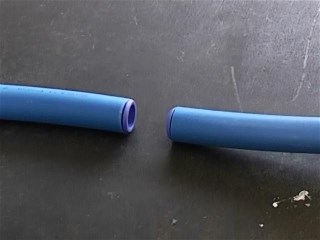 This MDPE pipe has been cut, de-burred and has inserts inserted into the pipe ready for the coupling
MDPE pipe is available in 20mm and 25mm diameters. This pipe is normally blue in colour although it is available in different colours. MDPE pipe is used almost exclusively in the UK for cold water applications underground. It is often used to connect domestic properties to the water supply. Most homes in the UK will be supplied with water either via a 20mm or 25mm MDPE pipe, although some older properties may be supplied by lead pipes.
If your property is supplied via a lead pipe it is worth checking with the company that supplies your water as some water companies run lead pipe replacement schemes where the home owner installs a new MDPE pipe to the boundary of the property and the water company will connect you for free and disconnect the old lead water pipe (unless it is a common pipe supplying other properties). MDPE pipe is fairly tough but can be damaged easily, for that reason it should be kept away from large stones or gravel and ideally should be laid in a bed of soft sand and covered with soft sand, this will minimise the risk of damage from sharp stones.
MDPE pipe can easily be cut using a hacksaw, although a dedicated plastic pipe cutter is preferred. The pipe should be de-burred before it is inserted into any fitting.
Where the pipe enters a hole it is critical that no products that are chemically based such as expanding foam come into contact with the pipe as the chemicals can attack it, and at the very least make the water taste funny. MDPE pipe is often sold by the metre at plumbers merchants, although if you buy it online it often comes in coils of 25M or 50M lengths. Joining MDPE pipe is very easy and there are several fittings which are made for this purpose such as those made by John Guest, Flowplast, Melimatic and Philmac. MDPE pipe can easily be joined to copper pipe or lead pipe using couplings such as the Philmac Universal transitional coupling.