Tiling over tiles, or can I tile on top of tiles is a very common question that often arises. You can tile on top of existing tiles but in some cases it will just not work, so the only option in some cases is to remove the existing tiles and then re-tile the area.
You can tile on top of existing tiles but there are good points and bad points about doing it. For tiling over wall tiles you need to take precautions as there could be weight restrictions when tiling over tiles, for example take a look at this chart-
Technical specifications for the weight limit of Natural stone on certain substrates
SUBSTRATE

WEIGHT LIMIT

APPROXIMATE WEIGHT

A skim plastered solid wall or plasterboard with a skim coat
20Kg per Sq/Metre

approximate weight of 10mm thick stone

Plasterboard without a plaster skim or sand cement render

32kg per

Sq/Metre

approximate weight of 15mm thick stone

Correctly braced Aquapanel

50Kg per Sq/Metre

approximate weight of 20mm thick stone
You can see that the weight restriction for tiling onto a wall that has been skimmed is 20kg per square metre. If your wall is already tiled and the tiles weigh close to this amount and then you tile on top of them, there is a possibility that the adhesion between the first set of tiles and the wall will fail, leading to the tiles falling off. If porcelain or ceramic tiles are being used then the weight of the tiles per square meter should be no where near that of natural stone.
Tiling over floor tiles means that the above weight restrictions do not apply and so you can often tile over existing floor tiles with few problems. Tiling on tiles can often be easier as there is already a flat surface to tile to. You must ensure that the original tiles are firmly fixed and not loose. One of the problems with tiling on top of existing tiles is that it can be difficult to finish the tiles at architraves and around doors and windows, due to the increase in thickness. When tiling on top of existing floor tiles you have to ensure that the rise in floor thickness does not cause any problems for example where a washing machine or kitchen appliance is situated. Sockets and switches can also cause problems, but this can often be easily overcome by using extended screws to fix the sockets/switches to the back box. To tile on top of existing tiles you must first ensure that the tiles are firmly fixed, then clean the existing tiles with sugar soap. When they are dry you can begin to tile using a suitable tile adhesive.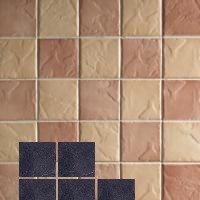 When setting out the tiles it is best if you can arrange the tiles so that the grout lines on the new tiles do not align with the grout lines on the existing tiles as in the example to the left. This way if you do have one original tile that is not fixed 100% the other tiles will hold it in position.