Each year thousands of homes are burgled or have items stolen by opportunistic thief's. Whilst it is virtually impossible to prevent every burglar from breaking into your home you can make it a lot more difficult for them.
Below are some tips for improving the safety of your property, which will hopefully prevent you from becoming another statistic.
Security lighting
Burglars do not like operating in the light, they much prefer dark places where they cannot be seen, it is therefore important to install security lighting in places where burglars could possibly approach your property with the intention of not being seen. Security lights like the two below are now extremely cheap and can be a great deterrent. You can also get some lights that include a camera and record people who activate the PIR.
When installing PIR security lights it is essential that all floor areas are covered so that there is no way of avoiding being picked up by any of the PIR's.
A basic PIR operated security light like this is invaluable. As well as enabling you to see when it's dark they also light up when any intruders are in the vicinity of the passive infra red sensor.
A separate PIR and bulk head light is being used in this arrangement, this means that you can position the passive infra red sensor at floor level and have a large flood light at eaves level.
Burglar alarms
Burglar alarms are one of the best deterrents available and offer great protection from burglars as the noise created by the alarm alerts most of the accompanying neighbours. It is important to have a burglar alarm that is working fully and does not keep false alarming. False alarms can really annoy your neighbours and it will encourage them to ignore the alarm each time it sounds.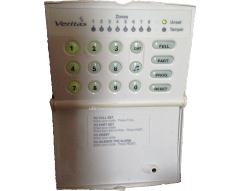 A burglar alarm can be installed in less than a day and normally for less than £150 There are many options with burglar alarms, many offering several zones and a large range of different sensors. Burglar alarm bell boxes should be positioned high up and have reassurance LED's which flash to attract the attention of people. You can now get a flasher unit that works from a 1.5v battery and alternates two flashing LED's, this can be placed into a dummy bell box and is an excellent deterrent. We have a dedicated section of videos showing how to install your own burglar alarm here Burglar alarm videos
High security locks
Many off the shelf locks are not as secure as you would expect, take for example euro cylinders. These were thought to be secure for many years until it turned out that most euro cylinders could easily be defeated by lock bumping or lock snapping. If you have euro cylinders fitted it's a good idea to check them to make sure that they are bump proof and snap resistant. Some popular makes of bump proof and snap proof locks are ABS, Yale, UAP and ICL. Euro cylinders
Windows
Windows can offer a burglar easy entry to a property especially if they are left open. Ensure that windows in non occupied rooms are locked and if you are leaving the property ensure that all windows are locked before leaving. UPVC windows normally come with window locks already fitted but on most windows (either wood or UPVC) window locks can be retro-fitted. One third of burglars enter a property through a window, if you don't have window locks installed already, now is a good time to fit them!