The Milwaukee 2763-20 M18v FUEL 1/2" high torque impact wrench is in a class of it's own when it comes to undoing tough fasteners, the impact wrench can deliver an impressive 1100 foot pounds of nut busting torque. To test this machine out we needed something a little different so I took the machine into a local chemical plant and tested it out on a large filter case ring.
The filter case ring is 30mm thick and is made from steel, the M20 bolts that hold the ring to the filter casing have been gas axed off, leaving behind a M20 steel stud. An industrial mig welder has been used to weld a nut on each of the studs. Normally a 3 foot long pair of Stillsons is used to remove the studs, but it is extremely hard work and is very time consuming.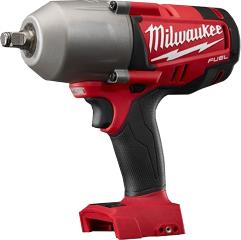 This is the very impressive Milwaukee 2763-20 M18v FUEL 1/2 inch drive impact wrench. The last Milwaukee impact wrench that I tried out had a pin to prevent the socket slipping off from the drive, but the problem is that the pin soon got distorted and you needed a tool to remove the sockets. The friction ring on this model is a much welcome improvement
Delivers up to 700 ft-lbs of maximum fastening torque, up to 1,100 ft-lbs of nut-busting torque and up to 2X more runtime.
Brushless Motor: Out powers competitors yet runs cooler with no components to wear out
Mode 1 delivers up to 100 ft.-lbs of Torque
Mode 2 up to 700 ft.-lbs. of Torque
LED work light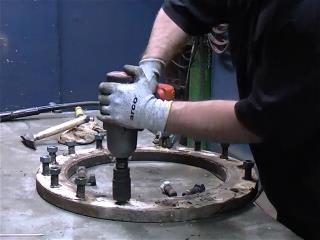 These studs are really going to take some force to remove them.
The impact wrench has been set onto the second stage, which should deliver 1100 foot pounds of nut busting torque!
Most of the studs were removed in a few seconds although a couple of the studs required the impact wrench holding on them for much longer
One of the studs could not be removed with this machine, which is a pity.
Removing this last stud took a 3 foot long pipe wrench, even then at the first attempt the nut was sheared off from the end of the stud.
Although this impact wrench is heaver than most other cordless impact wrenches it more than makes up for it with the vast amount of torque. If you are a maintenance engineer or truck mechanic this impact wrench would prove invaluable but for the home user it is probably too powerful and a cheaper model with less torque would suffice.