Dewalt DC515N 18 Volt Handheld Wet & Dry Vacuum review
The Dewalt DC515N Runs off current DeWALT 18V batteries for easy change between different tools with a single battery.
Please note that this model uses older Dewalt batteries and the newer XR batteries will not fit this machine
The Dewalt DC515N is a very handy portable vacuum and can be used almost anywhere.
Even on this MDF dust it performs well.
Specifications -
Power Input: 180 Watts
Max Airflow: 15.9 Litres/Sec.
Tank Volume: 1.9 litres
Voltage (DC operation): 18V
Hose nozzle outside diameter: 32mm
Blower: NO
Weight: 2.2Kg (excluding battery)
Supplied With: 1 Metre heavy duty rubber hose, Crevice tool, Wide Nozzle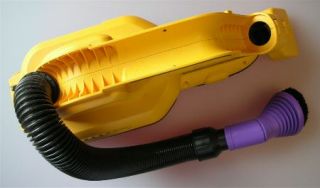 The Extendable rubber hose (up to 1 metre) is the same size of that on standard vacuum cleaners and so you can often use the tools from your large household vacuum.
The tank has a generous 1.9 Litre tank capacity. High efficiency filter traps 99.7% of dust as small as drywall and cement dust Single latch tank removal allows for quick and easy removal and emptying of the tank.
Heavy Duty washable filter
Dewalt have made yet another gem to add to their line of cordless tools, the Dewalt DC515N. This is a very portable hand held vacuum cleaner that can clean almost as well as a normal domestic vacuum cleaner. I was so impressed with the Dewalt DC515N that I bought my mother one as she uses it for cleaning the stairs, it is much easier than trying to use a normal vacuum cleaner.
This Is one of my favourite tools because it is so easy to use, just plug in a battery from one of the other Dewalt 18v tools and clean up the mess that you have made in seconds. For the professional this tool is an essential piece of kit and once you have used it you will wonder how you ever coped without it. Cleaning out the car or van has never been so easy, just ensure that the battery is charged and go and clean. There is no need to mess about with trailing leads or extension cords anymore!