If you find the lights in your home are too bright you can dim them by fitting a dimmer switch. These switches are popular in living rooms as the lights can be dimmed for watching TV etc. then Un-dimmed for reading etc.
Before working on any electrical circuit you must ensure that it is isolated correctly and cannot accidentally be switched back on. Please read the article on safe isolation procedures before doing any electrical work. If you are not 100% certain what you are doing call a qualified electrician. Building regulations are changing all the time and modifying your home electrics could be against new rules and could invalidate your home insurance, if in doubt check first!
Brass two gang dimmer switch
You must check that the bulbs in your light fitting are compatible with dimmer switches, Fluorescent lights and energy saving light bulbs are not compatible and should not be used with dimmers. Dimmers can be used on a two way lighting circuit or a single one way lighting circuit. The wiring is very simple as you simply follow the wiring of the switch that you are replacing.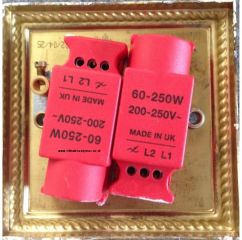 This dimmer has terminal for L1, L2 and common which is identified by the sine wave symbol ~
A common problem with fitting a dimmer switch is that the back box is often not deep enough to accommodate a dimmer switch and so will need replacing with a deeper back box. This is simply a case of chiselling away the Masonry behind the back box and then refitting a deeper one. Be sure to connect the Earth wire to the back box, then run a earth wire to the dimmer itself!