There are literally hundreds of different makes of grab adhesives. These normally come in tubes which fit directly into a cartridge gun (similar to silicone). Whilst I will not recommend a particular brand as I am not being paid to do so I will tell you to steer well clear of the "solvent free" versions, these are normally nowhere near as good as their counterparts which include a solvent. Most of these adhesives can be used for gap filling as well as an adhesive, most are instant grab and offer some degree of slump resistance. These adhesives offer distinct advantages to screws or nails as there is no "making good" after fastening, you simply apply the adhesive push into place and wait for it to go off, with nails or screws you have to spend time trying to conceal the head of the nail or screw which can be difficult. Always support the item you are gluing with nails or a batten beneath until the adhesive has set properly!
Grab adhesives are often sold in silicone tubes which makes applying the adhesive very easy. This maximum torque by Everbuild is particularly good, in the example below it is used to fix some timber to tiles
Grab Adhesives are perfect for dado rail, skirting boards, architectural mouldings, panelling, splash backs and a thousand other uses! A friend of mine recently fastened the brackets of a radiator to a wall using just a grab adhesive!
Silicone sealant is also often used as a grab adhesive, although there is not much grabbing power with silicone if the work piece is supported silicone can make an excellent waterproof adhesive and it is also easy to remove afterwards!
Apply the grab adhesive to the item you need fixing. In this case I am fixing a block of wood to a tile in order to install the bath panel. On a job like this grab adhesive saves you lots of time as you do not need to bother drilling the tile!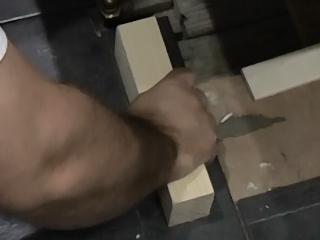 firmly press the adhesive onto the tile and allow the adhesive to harden. The time for the adhesive to set will depend on the make of the adhesive and the ambient temperature.