There are many different types of cooker combinations that can be used in modern kitchens. There are Gas hobs combined with electric ovens, or an electric oven and hob, or you may get a cooker that works just from gas but yet requires electricity to make it work because it has a fan assisted oven. Often even a gas hob will require an electricity supply for the ignition system to work. For a single electric oven up to 3kw it can normally be wired onto a three pin plug and plugged into a socket behind the oven housing. Gas hobs can also be wired this way, although the fuse for a gas hob will be of considerably lower amperage than that of the 3kw electric oven.
Before working on any electrical circuit you must ensure that it is isolated correctly and cannot accidentally be switched back on. Please read the article on safe isolation procedures before doing any electrical work. If you are not 100% certain what you are doing call a qualified electrician. Building regulations are changing all the time and modifying your home electrics could be against new rules and could invalidate your home insurance, if in doubt check first!
A cooker radial circuit starts at the consumer unit, the wire should be thick enough to carry the required amount of electricity for the appliance and the wires should be run in the permitted zones (if you are unsure what thickness of wire to use then consult a qualified electrician, diversity can be applied to cookers but not to showers). The wire will then go to a double pole isolating switch containing a neon indicator ( this is called a CCU or cooker control unit ). This switch must never be placed directly over the appliance but must be within 2 metres of the appliance. Often the Appliance will be wired directly into the CCU, but it is not uncommon to see appliances wired into a connection unit that is below the kitchen worktop ( this makes changing an appliance much easier).
Here you can see a typical arrangement for a free standing electric cooker. Note how the wire comes from the consumer unit to the CCU (cooker control unit) then to the connector unit and finally into the appliance.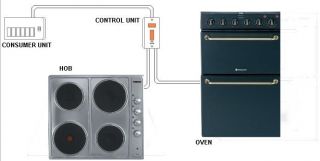 A cooker circuit may supply two or more cooking appliances as long as they are all installed in the same room. One switch may be used to control both appliances as long as the switch is within 2 metres of both appliances.
If you are installing a cooker circuit from new, then you need to choose a CCU (cooker connection unit). These are available with or without a socket outlet, it is preferable to get one that does not contain a socket outlet as electric cookers (ovens especially) are notorious for earth leakage. This means that ideally a cooker / oven should be connected to the non RCD protected side of the consumer unit or else nuisance tripping can occur. If you do get one with a socket outlet then the cooker must be wired to the RCD protected side of the consumer unit!
Here we have a satin stainless steel CCU that matches the splash back and the other sockets in the kitchen.