PVC Cladding and roof line products can drastically improve the look of your home.
When wood has been neglected it is normally because of the difficulty in reaching it to periodically paint it, working at heights is not much fun so the ideal solution is to replace the wood with PVC profiling. If you paint the wood it needs repainting every few years but with PVC cladding you can just fix it and forget about it.
Fitting the PVC profiling is not easy and will probably require the help of a friend and the hire of scaffolding, which should be erected by a specialist firm!
Once the PVC is properly fixed you can forget about it, no need for periodic painting, Although the PVC may need cleaning at some point!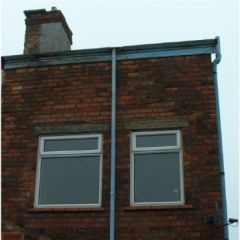 Here you can see that the wood fascia is clearly in need of painting, the gutter is cast iron and was sanded and painted, then PVC capping board was Nailed directly over the existing board and the rainwater down pipe was replaced rather than re painting it.
Fastening the Capping board is simple you just cut it to length and drill pilot holes for the nails, special polytop nails are used which have a tough white plastic top. The nail shank is stainless steel so it will never rust.
You should only overboard using PVC profiling if the wood is not rotten. If the wood is rotten you need to strip the wood from the building and use thicker PVC profiling, rather than over-boarding.