MDF (Medium density fibreboard) is a versatile sheet material that is suitable for many interior and some exterior projects. It comes in various grades - standard, light-weight, ultra-lightweight, moisture resistant (MR), fire-resistant (FR) and MDO (medium density overlay - has a "skin" of plastic foil). For most interior DIY uses standard MDF is excellent, although where improved moisture resistance is required, such as in kitchens or bathrooms the MR variety should be chosen. MR is distinguished by its core colour of green, whilst FR has a red core. MDO is designed for exterior use in projects such as sign making.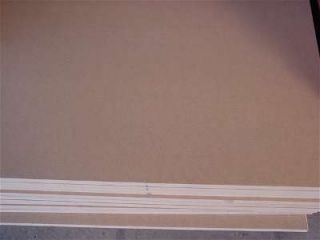 MDF (Medium density fibreboard) is now a very common sheet material
MDF is made by bonding fine wood fibres under pressure using a resin adhesive. The abrasive nature of the resins used to bond the material together means that it is best worked with power tools. Routers and circular saws will require carbide tipped (TCT) tooling. It is extremely consistent in structure, but because of the fine materials used in its manufacture it releases a lot of dust when sawn or machined, so you will need to use dust masks and power tools with dust extraction if at all possible.
There have been some extremely ill-informed media attacks on MDF in recent years concerning toxicity. What is being referred to is the outgassing of formaldehyde gas. The main time at which this occurs is when the material is being sawn or machined, however almost all MDF available in the UK today is of low-formaldehyde formulation and is less of a risk that even the chipboard floors used in modern houses. If in doubt specify Medite, Caberboard or Egger as all their standard boards are low-formaldehyde.
MDF is widely used in children's furniture in some children's toys because of its' low toxicity and ease of machining. Because of it's structure MDF is best sealed and painted or lacquered before use. MDF has good environmental credentials. Most of the timber used in its' production come from sustainable softwood forestry and all of the major makers have been awarded FSC certification. Unlike solid timber, MDF utilises almost all of the tree in its production. What doesn't go into the tree is burned in the mill's boilers to generate heat and steam used in the production process.
The biggest problems with MDF are the weight (a 2440 x 1220mm x 18mm thick sheet weighs 45kg) and its propensity to sag when used in log unsupported shelves. By careful design this latter feature can be overcome. There is an on-line calculator, the Sagulator, which will help you calculate the sag you'll experience for a given length/width of shelf under a given load.
Standard thicknesses include 4, 6, 8 or 9, 12, 15, 18, 22 and 25mm. Pre-veneered MDF is generally available in 8 or 9, 12 and 18mm thicknesses. For free-standing structures such as cupboards 18mm is a good choice.
Where to Buy MDF?
Standard MDF is available from many DIY outlets including B & Q and Wickes. Other grades, such as veneered or MR-MDF may only be available through specialist sheet materials suppliers or plywood distributors. See your local Yellow Pages for details.
How to Work MDF?
MDF is best cut using a circular saw with a TCT blade. Edge profiling is best done with a router and TCT profiling bit. MDF sands well, screws well, but does not hold nails very well. MDF is suitable for gluing using PVA glue.