Safes are a good idea for storing valuables and items that would be difficult to replace, when buying a safe there are a few things to consider-
The type of safe - some safes are security safes and some are fire safes, it is critical that you get the correct type.
The insurance rating of the safe - Unfortunately many of the safes on sale today are not Insurance approved, which means that in the event of a claim it is unlikely that a safe will be covered by the insurance.
The size and weight of the safe - It's important to get a safe that is large enough on the inside, because the walls are thick on most safes the internal size is often compromised. A heavy safe is very difficult to move upstairs unless you have the right lifting equipment.
Safes which protect from both theft and fire are recommended as they serve a dual purpose. The cost of these safes has dropped considerably in the last few years making them even more affordable! Your insurance company must be informed if you have a safe! For large valuable items it is advisable to insure them individually, take a photo and keep it in your fire safe!
This safe is a fire safe, this is totally unsuitable for storing valuables and should only be used to store documents/computer data etc.
Safes have different ratings depending on what value of items is being stored in them. A safe with a cash rating of £5000 will also cover £50000 of valuables, to get the figure of valuable protection multiply the cash rating by ten.
Please be aware that many of the safes for sale are not insurance approved, you need to check this with your insurance company before purchasing a safe!
Securing a safe
After choosing your safe it will be necessary to secure it either to the floor or to a wall, although most safes are heavy it is best to make removal as difficult as possible! Locate the safe where it will be free from prying eyes as if it is hidden then there is even less chance of a burglar finding it. A safe can be fastened to a wall or a concrete floor with ease, which will make removal very difficult! Most safes have pre marked holes through which to drill in order to fasten it to the floor or wall.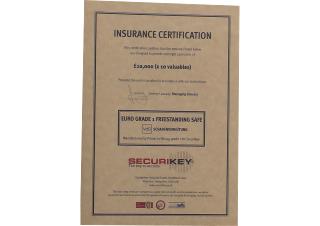 When buying a safe it is important to check with your insurers to ensure it meets the correct standard. This is a certificate that came with a safe rated at £10,000 cash or £100,000 valuables rating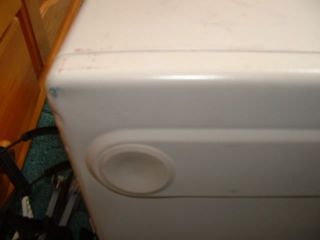 Here on the back of this safe you can see one of the anchor points, there are four on the back and four on the bottom of the safe. You need to decide if you are anchoring it to a wall or to the floor and drill out the relevant holes. Instructions on how to do this will be with your safe and should be followed to the letter. After drilling the holes you can locate it and mark through the holes which you have just drilled so that you know where to drill the fixing holes. Remove the safe and drill the holes for the fixings, insert the fixings and then relocate the safe. Fasten the fixings tightly and there you have it, a fixed fire proof and burglar deterrent.