Grinders are a very useful power tool but need treating with the up most of respect, these machines can be lethal! The disk spins at very high speed and should never be put down until the machine has completely stopped. It is not unknown for abrasive disks to disintegrate with disastrous results, I know of at least one person that has had a disk disintegrate and unfortunately lost an eye!
DO NOT TAKE ANY CHANCES WITH GRINDERS!
Angle Grinders
Probably the most common and well known grinder is he angel grinder, these come in several different sizes and wattages. The higher the wattage the more powerful the grinder will be. Currently grinders come in the following sizes.
| | | | | | |
| --- | --- | --- | --- | --- | --- |
| Imperial | 4.5 inch | 5 inch | 6 inch | 7 inch | 9 inch |
| Metric | 115mm | 125mm | 150mm | 180mm | 230mm |
The smaller grinders spin at higher speeds and therefore the blades wear out much faster. A small grinder is typically 10000 rpm where as a large 9 Inch grinder spins at only 6500 rpm. Better models have vibration damping handles and some have safety clutches that prevent injuries to the user. The larger models also have a dead man switch which means that you have to hold the switch to the on position unlike smaller models which can simply be switched on and then let go of!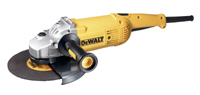 Angle grinders can be used to cut stone or metal or even grind stone or metal with the appropriate disk. I do not like abrasive disks as these are dangerous, so a diamond tipped disk is preferred and is much safer! Small size grinders are also available in Air powered.
Bench grinders are almost exclusively used for sharpening of either tools or drill bits, although they can also be used for a hundred other uses! The grinding wheels often become worn unevenly and need dressing with a dressing tool.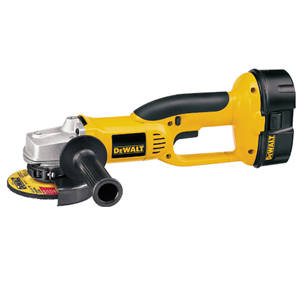 The latest innovation is the cordless angle grinder, with versions available from Bosch and Dewalt. These are currently available in 115mm (4.5 inch) and have the advantage that you cannot cut through the cord. Working at heights or outside is now much easier as there is no annoying trailing lead!
The only problem with these machines is that the batteries drain very quickly.

Die grinders are used for polishing, wire brushing and metal removal on dies, stampings, gear teeth, plastics, tubes and castings
Die grinders are also found in air powered which require compressed air from a compressor, these are often found in garages etc.