Cutting pipes can be made much easier by using the correct cutter, when using plastic pipe it is much easier using a designated pair of plastic pipe cutters, likewise when cutting copper pipe it is much easier cutting it with a pipe slice. A hacksaw can be used to cut either type of pipe but it requires more de-burring after cutting and it can be difficult cutting the pipe squarely with an hacksaw.
Cutting plastic pipe
Plastic pipe is best cut with a designated plastic pipe cutter, you can pay between £5.00 and £20.00 for a pair. To cut the pipe simply open the cutters, place the pipe in the opening where the blade is and squeeze the handles together (some cutters are ratchet cutters and require squeezing the handles several times).
Plastic pipe is the easiest of all to cut as it is so simple, even in confined spaces. Do not use an hacksaw to cut plastic pipe as this will create burrs which damage the PTFE sealing ring within the push fit joint, which will ultimately leak!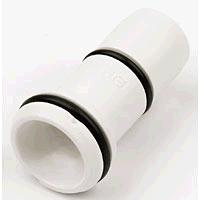 Inserts must always be used with plastic pipe, it is important to use the correct insert for the pipe that you are using, so always buy the correct insert for the brand of pipe that you are using.
The pipe insert simply pushes into the end of the cut pipe and prevents the pipe from crushing when the pipe is in the fitting.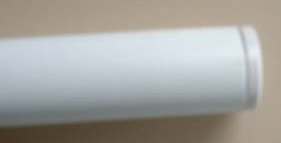 The pipe insert must be inserted all the way to the end of the pipe
Cutting copper pipe
Copper pipe can be cut with either a hack saw or a pipe slice. If a pipe is against a wall then a hacksaw is probably easiest but if it is not against a wall a pipe slice will be far easier, guaranteeing a straight burr free cut. Joints are far better if the two pieces of pipe to be joined are square and burr free. A hacksaw can make it difficult to cut straight, whereas a pipe slice is almost fool proof.
If using a hacksaw to cut a pipe a good way to get a straight line is to wrap a piece of paper around the pipe, this gives you a straight line which you can use as a guide.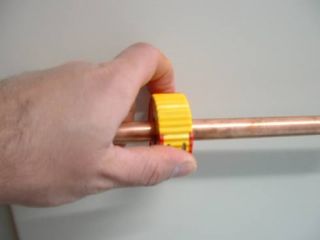 To use a pipe slice simply open it up and then close it onto the pipe, then rotate it as shown on the directional arrow on the pipe slice. After a few turns the pipe will be neatly cut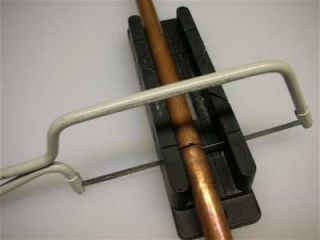 Alternatively you can use a junior hacksaw and a mitre block although this will create more burrs than using a pipe slice