Plasterboard comes under many different trade names, Gyproc from British Gypsum is very common and has been made in the UK for over 90 years, Lafarge is also a very common name in the dry lining business. Plasterboard is a sheet building material that consists of Gypsum that is compressed between two sheets of heavy paper. Plasterboard is now the most common material used globally for finishing off internal walls and ceilings.
This wall has been dry lined with plasterboard. The plasterboard has been screwed to the stud partition behind using special bugle headed plasterboard screws. The joints have had scrim tape applied and the wall is now ready to be skimmed.
Plasterboard comes in many different sizes and thicknesses and has several different edge finishes. One of the most common size in the UK is 2400mm by 1200mm, which is often referred to as an 8' by 4' sheet as they used to be eight feet long and four feet wide in imperial sizes. Sheets can be as long as 3600mm but are normally only used in large commercial projects. Sheet thicknesses range from 6.35 mm (1/4 inch) to 25 mm (1 inch). The most common thickness for domestic work is 12.5mm (1/2 inch). Larger sheets mean that they can be installed faster, saving money but Larger sheets are also much more difficult to handle.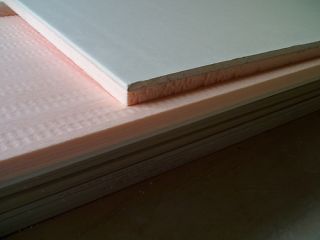 Insulated plasterboard is available and is especially useful in refurbishment work. Insulated plasterboard has a sheet of polystyrene or foam bonded to the back of it to increase the thermal insulation properties. Insulated plasterboard can be fixed using screws or can be fixed using the direct bond method.
Foil backed plasterboard can be used as a vapour barrier and can only be fixed with screws as it is not suitable for the direct bond method.
Here fire resistant plasterboard has been installed on a kitchen ceiling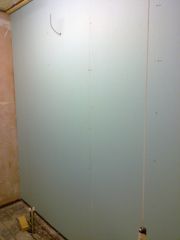 Moisture resistant plasterboard is useful for use in wet areas such as bathrooms, it is also a good idea to tank moisture resistant plasterboard around the shower area.
Do not confuse moisture resistant plasterboard with tile backer boards which are completely different and are cement based
The old trade of applying plaster by using a thick coat of browning or bonding plaster followed by a coat of finishing plaster has almost died out, some people still use it but it has many disadvantages over plasterboard, mainly the fact that it is introducing a wet trade into the house which can take considerable tome to dry out fully. Plasterboard is By far better than the old method of applying plaster, It is far easier and cheaper and the results are better also, especially for the DIY user.