Painting a brick wall can really brighten up a dull area such as a back yard, but it's not simply a case of painting the wall using masonry paint as there are not many types of bricks that can simply be painted onto, without the paint quickly peeling away from the bricks.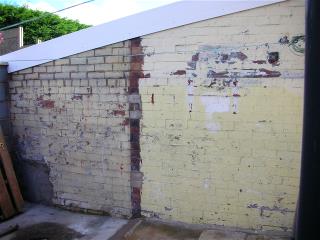 This wall was once painted with masonry paint, unfortunately the wall was not primed first and so after a couple of months the paint began to peel.
If the wall has been previously painted and is flaking the paint will need removing first, this can be done using a power washer or an angle grinder will remove tougher patches.
Safety goggles must be worn when doing this and a suitable dust mask.
Once the wall has been suitable cleaned and is dry it should be inspected for any mould and treated with an appropriate fungicide.
The mortar should also be inspected and any damaged mortar should be replaced before painting. A large dust sheet placed on the floor will prevent any spilt paint or splatter from the roller from staining the floor.
This wall can now be primed with one coat of Zinsser 123+. A large deep pile roller will enable you to cover the area quickly.
This will provide a suitable base coat for a suitable masonry paint to be applied onto.
The Zinsser 123+ is normally dry in approximately 1 hour.
Once the Zinsser 123+ is dry you can apply the masonry paint of your choice.
Some masonry paints will last up to 15 years so it makes sense to prime the wall properly to prevent any future problems.
The top coat can be applied by a large brush or deep pile roller.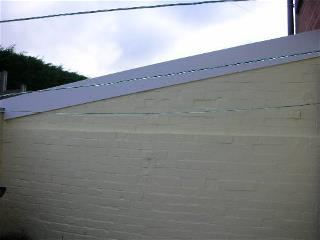 This is the wall after a coat of Zinsser 123+ and a top coat of magnolia masonry paint.