Fixing to dot and dab walls can be a real challenge, but thankfully new fixings are available which make mixing to dot & dab walls much easier. The problem with fixing to a dot and dab wall or a wall that has been dry lined using battens and plasterboard is that there is a void between the plasterboard and the solid wall behind, this can cause normal fixings to not work correctly or even fail. For more information on dot & dab please see here Direct bond plasterboard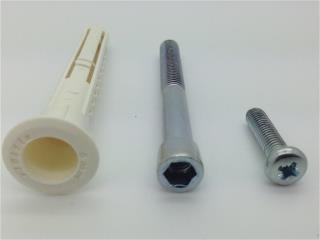 Rigifix fixings are specifically designed to fix to solid walls that are covered with plasterboard.
To the left is the Rigifix wall plug, in the centre is the threaded screw that is screwed into the wall plug and the screw on the right is the screw that fixes the item to the Rigifix.
In this demonstration we are fixing a cupboard bracket to the wall.
Currently the Rigifix fixings are available in M6 and M8 screw sizes.
Start by drilling a hole to the correct diameter and depth for the Rigifix plug, in this example the hole needs to be 12mm in diameter. When you have drilled through the plasterboard you will need hammer action to penetrate the masonry behind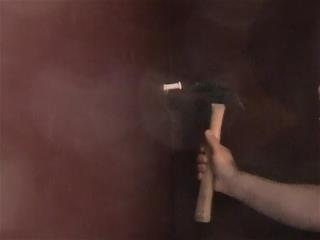 Hammer in the Rigifix wall plug until it is flush with the surface of the plasterboard
Now screw in the Rigifix threaded screw into the plug until it is also flush with the surface, this will cause the plug to expand in the hole and grip the masonry.
The threaded part can be screwed in using a hex key and can be driven in using a drill/driver
The hanger can now be screwed into the Rigifix fixing using the screw provided.
Once installed the Rigifix provides and excellent fixing that is well capable of holding heavy items such as kitchen cupboards.
Here you can see two Rigifix fixings side by side that are holding the hanger for a kitchen unit, the two screws just require screwing into the fixings until the screw are tight.