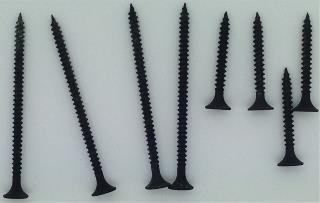 Dry wall screws or plasterboard screws are excellent for fastening plasterboard to wood, these specially designed screws are Black phosphate coated to prevent rust, they are hardened and have a bugle shaped head which allows you to sink them into the plasterboard without tearing the paper covering.
Dry wall screws are extremely tough and can cope with the extreme amount of torque that is exerted by today's modern electronic screw drivers, never try to use stainless steel screws for holding plasterboard as they cannot stand the torque and it is likely that the head will shear off from the screw.
Special electronic screwdrivers are available which have a auto feed mechanism, which feeds the screws directly into the machine. They are also available loose.
Here a dry wall screw is being fastened using a cordless drill/driver.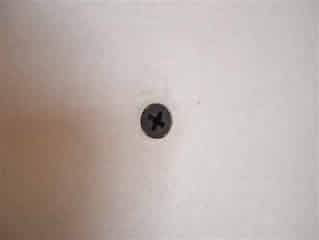 When using dry wall screws it is important that the screw does not tear through the paper on the plasterboard or else it will not hold it correctly. You can see from this picture that the screw has been screwed in just lower than the surface of the plasterboard without tearing the paper.