Personal Protective Equipment
Whilst doing DIY it is essential that the correct PPE (personal protective equipment) is used to prevent personal injury and injury to others! Last year in the UK some 220,000 people turned up at hospital after being injured whilst doing DIY. Most accidents are caused by sharp cutting implements such as knives and scalpels, many of these injuries can be prevented by wearing the correct PPE. If there is anything you do not understand or you are unsure of then please ask!
Ear protection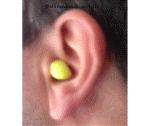 Loud noises can seriously damage the inner ear leading to deafness, inner ear damage is not treatable but it is preventable by using the correct type of hearing protection. There are several different types of ear protectors available, when purchasing ear defenders you must ensure that you get the correct defenders for the amount of noise that is to be expected. The "Muff" type of ear defender normally reduces sound much better than the type that are inserted into the ear.
Eye protection
Your eyes are very important and are easily damaged. Eye protection should never be compromised, Injuries to the eyes can be very serious and so adequate eye protection should be worn at every opportunity.
Guarding the eyes from foreign objects or splashes from chemicals is vitally important. Injuries to the eyes are normally life changing and can easily lead to blindness.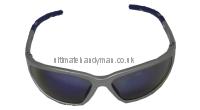 Safety glasses are designed to offer some, but not full protection to the eyes. Glasses are the minimum protection you can use and can stop most foreign objects from entering the eyes. Safety glasses do not need to look ugly anymore, this stylish pair of safety sun glasses is ideal for outside work!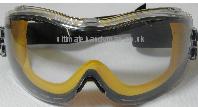 Safety goggles offer much more protection than glasses as they completely cover the eyes, cheaper models do have some drawbacks, mainly that they steam up easily which makes it difficult to see.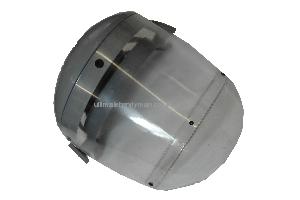 A safety visor offers not just protection to the eyes but to the whole face as well, which can be useful when grinding metal, however if you are not careful foreign objects can pass underneath the visor, so it is advisable to wear safety spectacles as well as a visor. Special visors are available that connect to an air supply to enable the user to work in potentially dangerous environments such as when spraying cars.
Head protection
A bump cap can prevent injuries to the head when working in confined spaces or at heights. Safety helmets may also be required at times, especially if you are ever going on site.
Hand protection
Wearing the correct type of gloves can protect your hands from damage that can be caused by sharp edges or dangerous chemicals. There is no glove that can protect you from every single hazard and so a multitude of different types of gloves are available. It is imperative that you use the correct gloves for the job that you intend doing, a pair of Kevlar gloves will prevent you cuts but will offer no protection against chemicals. Often a pair of Kevlar gloves can be worn beneath another pair of gloves to offer more protection.
wearing the correct gloves is essential. Kevlar gloves like these are cut resistant and can prevent serious hand injuries.
Rigger gloves are a great all round glove for DIY use and are especially welcome when handling bricks and masonry. These gloves offer protection from abrasions and can prevent your hands from becoming dry due to exposure to mortar etc. Kevlar® gloves can be worn underneath these to offer protection from cutting hazards.
Flocked Nitrile Gloves should be worn for strong chemical use, stripping, degreasing, oven cleaning, harsh solvent, acid handling and dishwashing. Kevlar® gloves can be worn underneath these to offer protection from cutting hazards.
Foot protection
Injuries to feet are very common, this is one of the reasons that steel toe cap footwear is mandatory in many factories and building sites. Dropping even a light object onto your feet can easily break your toes and so footwear with steel toe caps makes a lot of sense, anyone that has dropped something on their toes and broken them will no doubt remember the pain and the amount of recovery time needed, this could easily of been avoided for the sake of a pair of safety boots that will last you years!
There are hundreds of different types of safety footwear available from safety trainers to safety Wellington boots. Choose your safety footwear carefully as their is a vast difference between the different types available, some have a steel midsole which prevents nails etc. from penetrating the sole of your foot, some are chemical and oil proof and some are anti-static.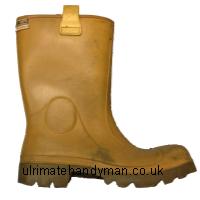 This rigger boot offers good all round protection- 200 Joule Steel Toe Cap, Petrol & chemical resistant, Oil resistant, Steel Midsole, Heat resistant to 300°C A pair of these would be great for working outdoors, these are often worn on building sites and are surprisingly comfortable.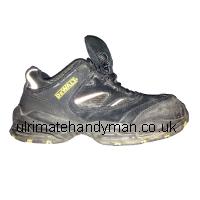 Safety trainers are now very popular although they are no where near as comfortable as normal trainers. 200 Joule Steel Toe Cap, Petrol & chemical resistant, Oil resistant, Shock absorption, Steel Midsole, Heat resistant to 300°C
Safety boots can often be very comfortable, although they are not the trendiest of footwear they are very practical and can save you lots of pain and time off work. 200 Joule Steel Toe Cap, Petrol & chemical resistant, Oil resistant, Steel Midsole, Heat resistant to 300°C
Respiratory protection
Face masks can offer protection from dust and chemicals that can cause severe damage to the respiratory system. These masks are extremely important as no DIY job that you ever do will be worth risking your health for!
It is of vital importance that the correct type of mask/respirator is used as a mask designed to stop dust will not stop organic vapours or airborne chemicals.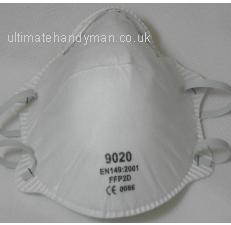 This is probably the most common type of dust mask that will be used in DIY, this will filter out dust etc. and is often worn when cutting masonry with an angle grinder or when working in dusty environments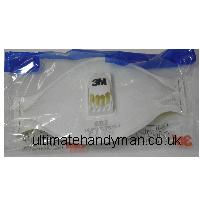 This is a slightly better version of the mask above as it has a one way valve in the centre, this allows expelled air to be vented through the centre of the mask. Most dust masks cause the users safety glasses to mist up because of the warm expelled air, this type of mask eliminates the misting of the glasses to some extent.
This is a twin filter mask that accepts different types of filter, these filters screw onto the mask and should be replaced at the recommended interval.
Filters are available to protect against-Organic vapours, Ammonia and organic ammonia, Inorganic gases and Acid gases