Whilst there are many different types of textured finish, most people refer to them as Artex finishes. These finishes are notoriously difficult to remove and unfortunately there is no easy way.
A new product is available for artex removal but it comes at a premium price and I have never tested it so cannot comment on it. It comes in 2.5 litre tins and 15 litre tins, costing around £20 and £90 respectively. 2.5 litres will cover 6-9 square metres depending on the thickness of the coating being used. It seems a little expensive in my eyes but if it really works then it could make life a lot easier!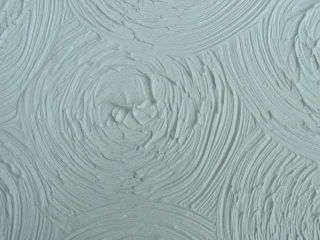 Artex can be removed but it is difficult
DO NOT UNDER ANY CIRCUMSTANCES TRY TO SAND THE ARTEX OFF AS SOME ARTEX AND TEXTURED FINISHES CONTAIN Asbestos
Basically you have two choices here, either remove the Artex by using a steam stripper and scraper (which is not easy) or skim over the top with plaster. Removing the Artex with steam is difficult and often the plaster behind is damaged as a consequence, It is best to test a small area with a steam stripper and if it seems to be working then use that method. If it is not working then the only other option apart from trying the special Artex removal liquid is to skim over the Artex with finishing plaster, be sure to coat the artex well with PVA or the plaster will not adhere properly and will crack.
If you decide that plastering over the artex is the best option then please see here- How to plaster over artex