Hi
I had to open up my planer the other day to remove a blockage. Unfortunately I didn't check before I pulled it apart to see which way round the brushes (or what I assume to be the brushes) needed to go.
I'm putting it back together now and I assume that one brush sits one side of the rod and the other sits on the other side. However I'm not sure which side this should be, or whether it actually makes any difference, or even if this is actually right.
I was hoping that some kind person could remove the right hand side dust cover from their PHO-1 and check for me please. You won't actually need to take the planer apart. Just remove the cover to see through the side vent.
There are some links to some larger pictures below so you can see what I mean.
Cheers.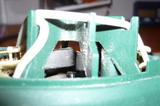 [/img]