I don't want the whole thing. Just the Rule with the alignment/adjustment slot.
We've got these sort of things aplenty,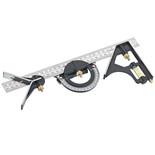 but lack any extra rule which means for a change of application, each needs to be stripped down and rebuilt.
I am aware that they generally come in two thicknesses of rule and rotating the [off-set] securing pin often accommodates either thickness.
I've tried the 'usual suspects'. viz Ebay, Machine Mart, Amazon, without success.
I know that they aren't expensive and I could just buy the cheapest available and then 'throw away' the housing but.............
Perhaps others may have more success in searching.