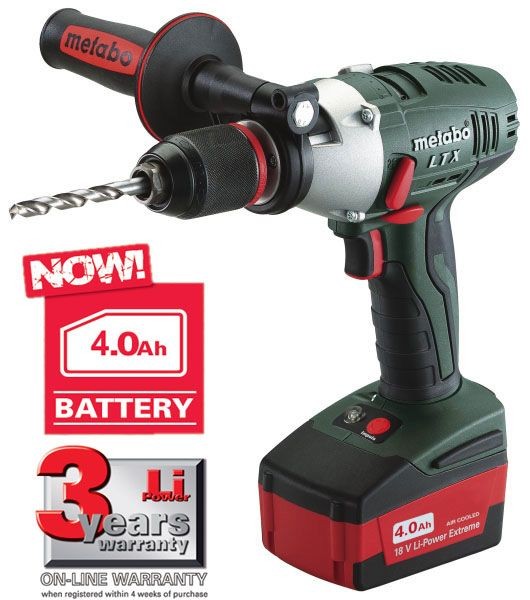 Specifications:
18V Cordless Combi Drill
2 x 4.0Ah Li-Power Extreme batteries
Max torque (soft/hard) - 44/100Nm
Adjustable torque from - 1.5-13Nm
Drill bit diameter in, wood - 50mm, steel - 13mm, Concrete - 16mm
Speed at no load (1st/2nd gear) 0-400/0-1400 rpm
Maximum impact rate - 28,000bpm
Weight - 2.1kg
Supplied with:
Charger
2 x 4.0Ah Li-Power Extreme batteries
Carry case
Sadly the time had come to replace my old but very dependable Panasonic cordless, and after much thought I decided to go against my better judgement and try a Metabo cordless. I really rate my BE622 Metabo corded and on spec the SB18LXT promised to be a first rate drill. In reality I should have gone with first purchase thoughts of either buying another panasonic or a makita. I really rate the Makita cordless drills and struggle to knock them in any way.
First impressions of the Metabo SB18LTX.
The plastic case.. The case has to be the best that I have ever had from any power tool, corded and cordless. It is very strong, has metal catches and more than enough room inside to store the drill and any other bits.
The drill.. It felt nice and heavy, which is something that I like, but the balance is completely wrong and front/top heavy. Rest this drill down standing upright, and sooner or later it will just topple over!!! This brings me smartly to my most major gripe, the speed adjustment switch. It would be better suited to a Xmas cracker, it is that crap! It doesn't engage smoothly and is made from very weak looking plastic and guess what, when the drill does fall over, the full weight is impacted onto this poorly designed lever. I'm not going to be happy when it snaps!
The chuck is up to the standard of the other Metabo drills, very strong and more than up to the job.
Battery life. I was expecting great things here after putting up with worn out batteries from the Panasonic. I have to say what a disappointment. Even with worn out batteries the Panasonic EY6432 with its 15.6 volt 3.0ah batteries leaves the Metabo for dead on everything apart from duration.
Puls mode.. Really..What a waste of time! Totally pointless despite what the sales videos will try to have you believe. Correct tool use, quality bits, and quality screws are all that you need with any drill driver. I guess that Metabo needed a sales gimmick, and that is it.
Would I recommend this drill, the answer is a point blank no. Would I take a refund, yes.
Save you money and buy a Makita or Panasonic.