Need a new shed to take my powder-coating stuff and some storage so i can reclaim some space in my main workshop.
The biggest i can squeeze in is 8' x 8' - have found a few in fencing/shed shops and seem to be around £800+, all have 15mm boarding and what seems pretty weak 45 x 34mm framing.
Now, is it best to go store-bought or DIY??
My main concern with store option is the door height is only 6' and i'm 6' 1-1/2" plus the pent roof goes from 1.8m to 1.95m which at the lower (back) side is pretty much touching my head.
Maybe better to build using 45 x 70mm and thicker cladding??
Main concern with DIY is it takes a whole lot longer and getting decent, straight timber is not to easy. I have built one before but it was smaller.
Heres where i want to plant it...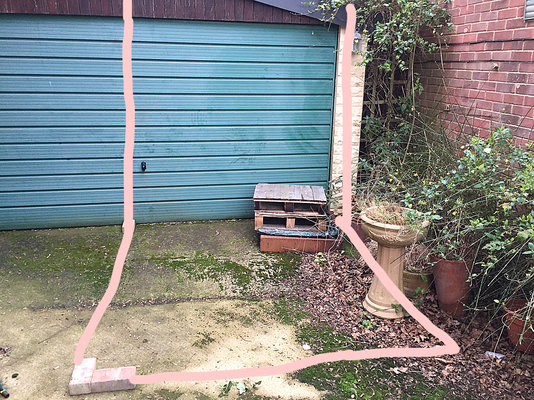 Yes I know it will block the up-n-over :) But I also want to remove that, behind the shed will be cladded and to the left I want a single 5'-6" wide door. This garage is in a useless position (for a garage)as the biggest car you can get in is an MG Midget or a smart car! The access is at 45deg to the house as we are in a corner between two other houses in a cul-de-sac. The guy who installed it had an MG and he pushed it in and out!
The base will be a small job - luckily its all concrete but i have to build up one end to level out the ramp, about 50mm IIRC. I want it so its removable should we move house. Not sure of the best way to do this yet.
The Up-n-over door can be stored down the side of the garage where the weeds are currently residing.
Front of the shed will be about 3' from the front of the main house line, hopefully thats ok for a shed, will ask our neighbour of course.
Can't join it into the main garage as an annexe as it falls foul of planning then and would need permission due to floor area, AFIK a temporary structure like a shed is ok as long as floor area is below 15sqm.
Would probably go with 2x4 all round, 18mm OSB roof and floor, roof felted and sloped to rear, the gravel strip is around 15" so should be clear of next door house wall.
Any thoughts?