ronson wrote:
Ive just done the same thing , put the cable ends in a 30a block pushed that in to the back box , blanking plate over the top and a picture to hide it
NO
tonk, you answered your own question, wago's.
The reason is a connection / joint should be accessible or maintenance free, wago's are maintenance free.
I would suggest the lever ones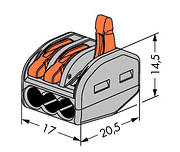 click here
_________________
Fret not, a forum is a collection of opinions. Above, are mine.
Which is correct? Metre or Meter? Click the link to find out more.
Working on
anything electrical
? have you got a
multi meter
?
why not
? Would you hit a nail with a shoe?
If gloom had a voice, it would be me.
How to post a picture on this forum
Click here