I managed to land a pair of 4x6-step telescopic/combination ladders by Werner.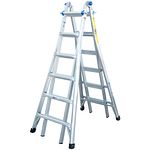 First impressions go something like
Good grief.... they weigh a bl@@dy ton!
Well 27kg - which I knew on paper, but hadn't fully thought what that would feel like when 2m long and manoeuvring through houses. I've only had basic/traditional stepladder types before so its a bit of a shock.
On the other hand, they're not (quite) unmanageable and are 'considerably' more ...